Hi there, welcome to my blog! I'm so honored to be part of the Wonderful Things blog hop for Bonnie Christine.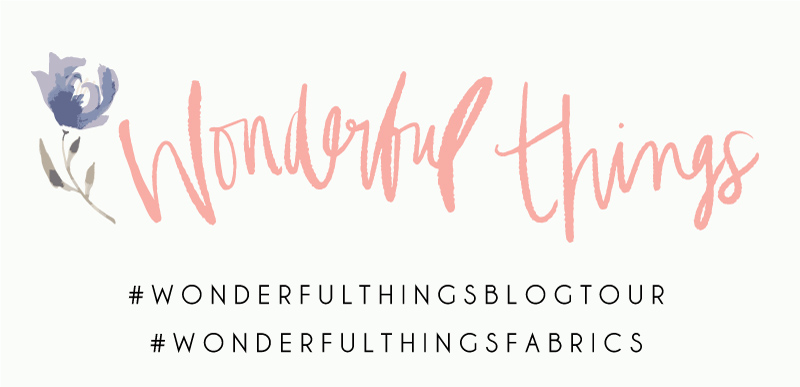 I'm Alice, a french quilter recently back in my home country. We previously lived in Australia (Melbourne), England (London) and New-Zealand (Wellington). We decided to come back home after 9 years living abroad. It was a tough decision but with our recent addition to the family, it felt the right time.
Today, I'll show you a quilt and tell its story. As every quilt has a story, right ?
Fabric
I was looking for fabric inspiration to make a quilt for our friends back in New-Zealand. They recently welcomed their second baby girl. I wanted to make something very special as those two people really helped us during our transition to living in New-Zeland as well as our transition of becoming parents.
When we first arrived, they didn't know us but they welcomed us in their home with open arms — for a month. We got to know their entire family and their parents even invited us for every Christmas meal during the three years we lived there. Isn't it a Wonderful Thing ? When we announced that we were expecting a baby girl, they lend us all their stuff. Car seat, bassinet, baby clothes, you name it. I'm so thankful! I don't know how we could have done it without their help. Therefore, I wanted to make something extra special for their precious second baby girl Amadee.
When I came across Bonnie's newest collection Wonderful Things, I felt it was the perfect match for this special gift. I love the soft color palette and the loving and gentle spirit it evokes.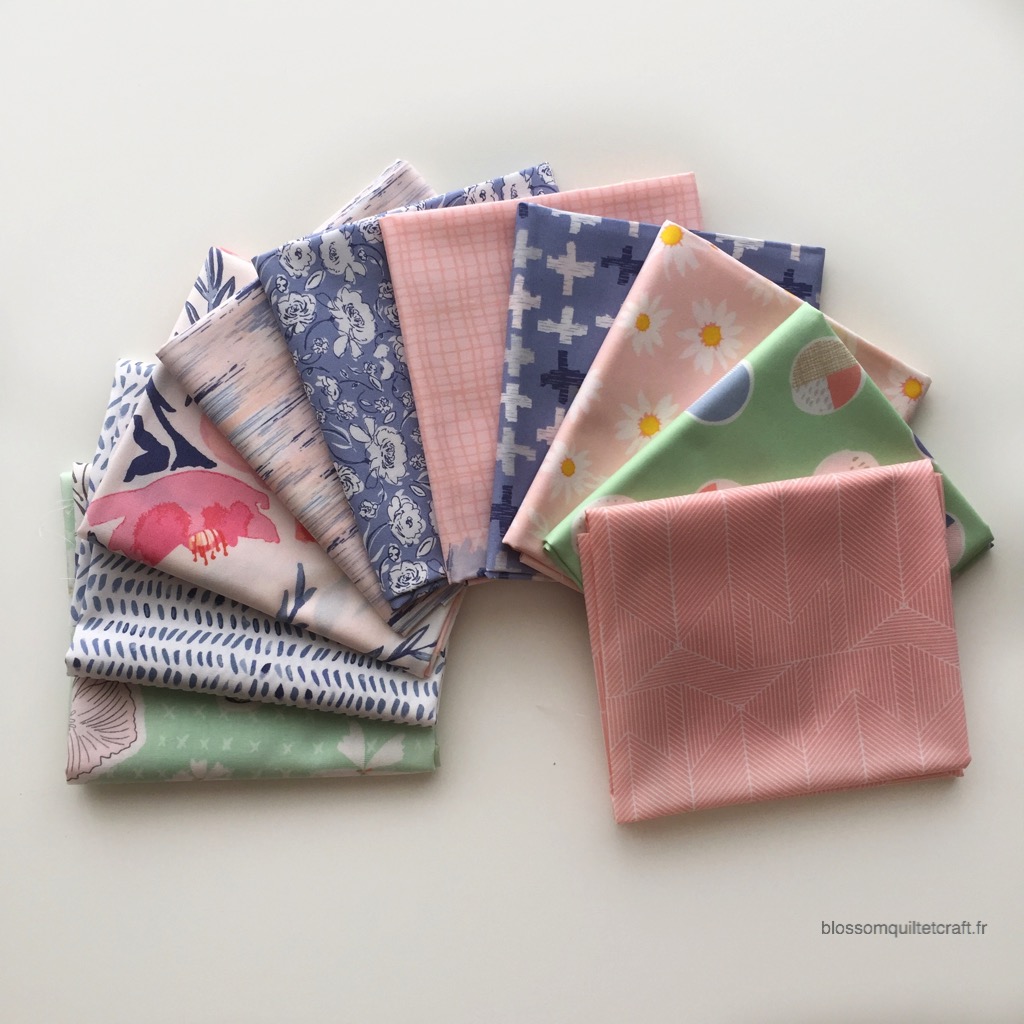 Quilt top
I knew I wanted to sew an oversized quilt block as it is what I have done for the first baby girl. I decided on the Carpenters wheel block.  Each square ends at 7 1/2 inches and it was very quick to sew. I only needed three naps from my daughter to cut the fabric and finish up the quilt top.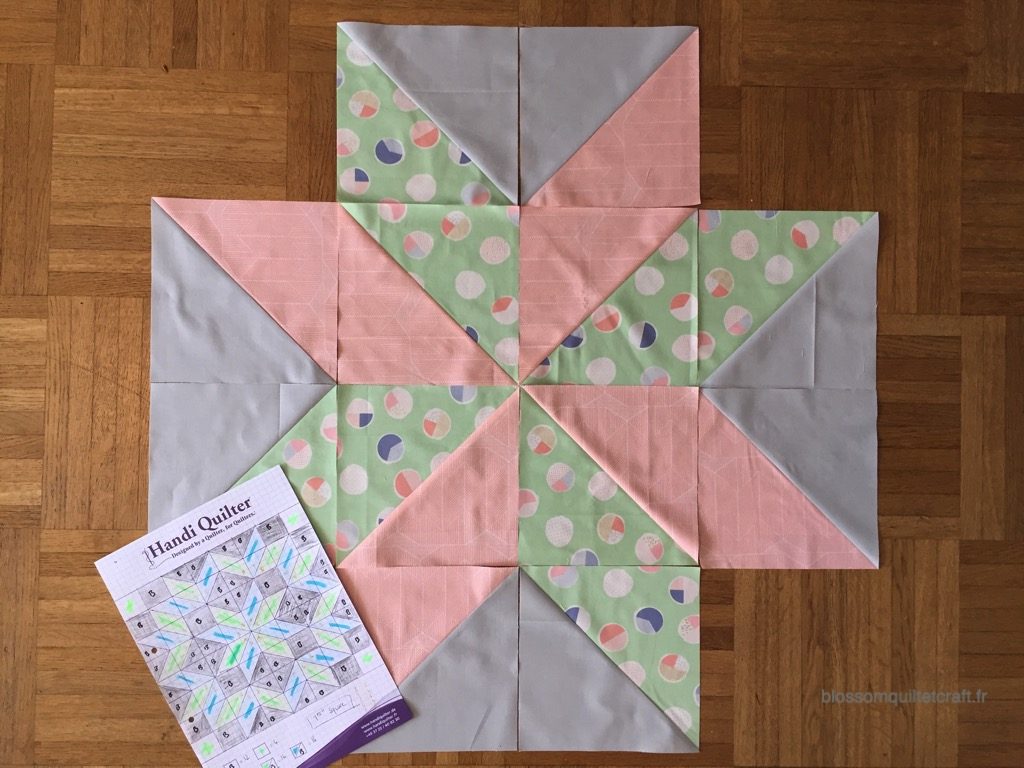 Here is the quilt top done. It ends at around 60 inches x 60 inches, so quite a big one for a baby quilt. I'm so happy that I managed to have the sweet little saying at each corner of the quilt top. It's a perfect way to frame this oversize block.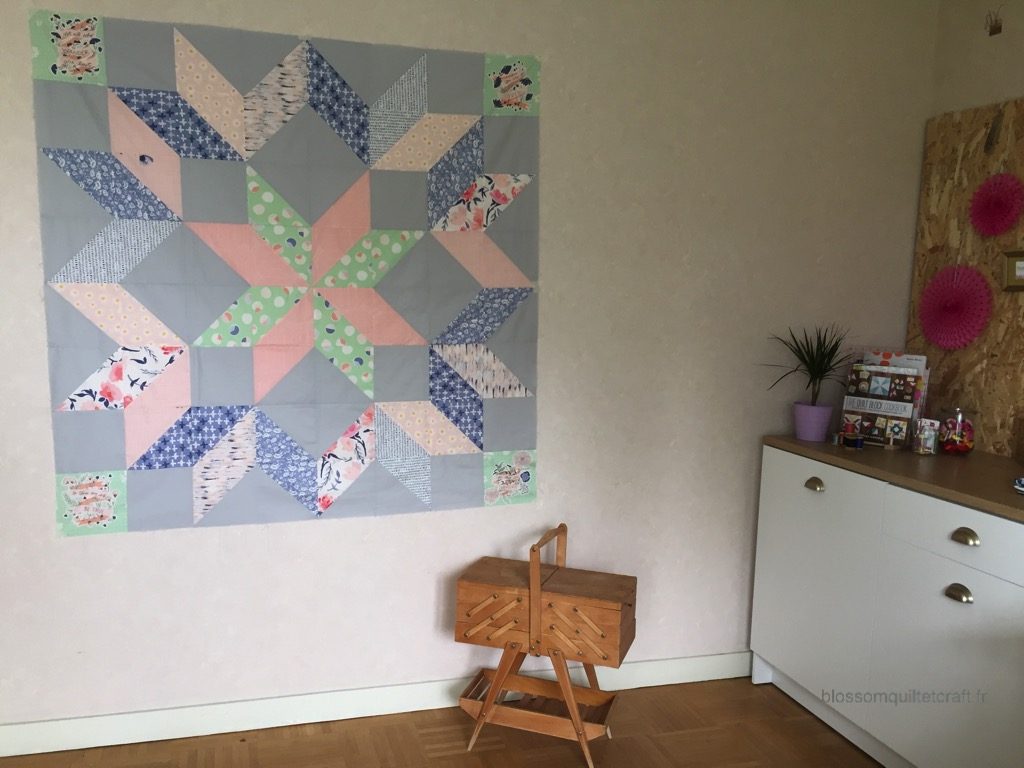 Quilting
Regarding the quilting, I wanted to make an effort. I love free motion quilting but I'm not an expert. Still, this quilt needed to be special all the way. I drew some ideas on a piece of paper (you can also admire my daughters input :-)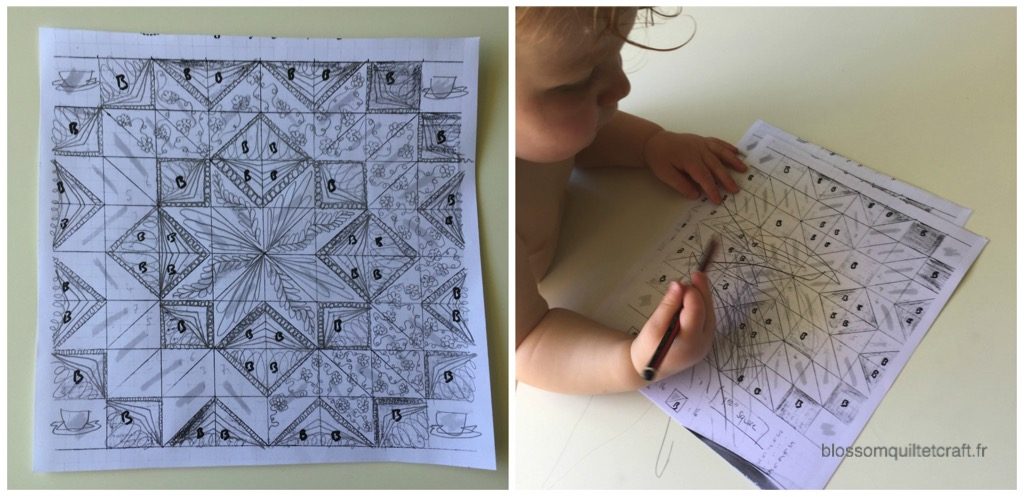 In my quest of wanting it to be extra special, I used double cotton batting 100% organic. Let me tell you that it has a divine texture but it wasn't that easy to work with. It was very puffy and fluffy, I got so much lint everywhere.
I'm loving those little free motion quilting details:
First of all, those flower loops. Love them! They even follow the designs of these pretty marguerite's print.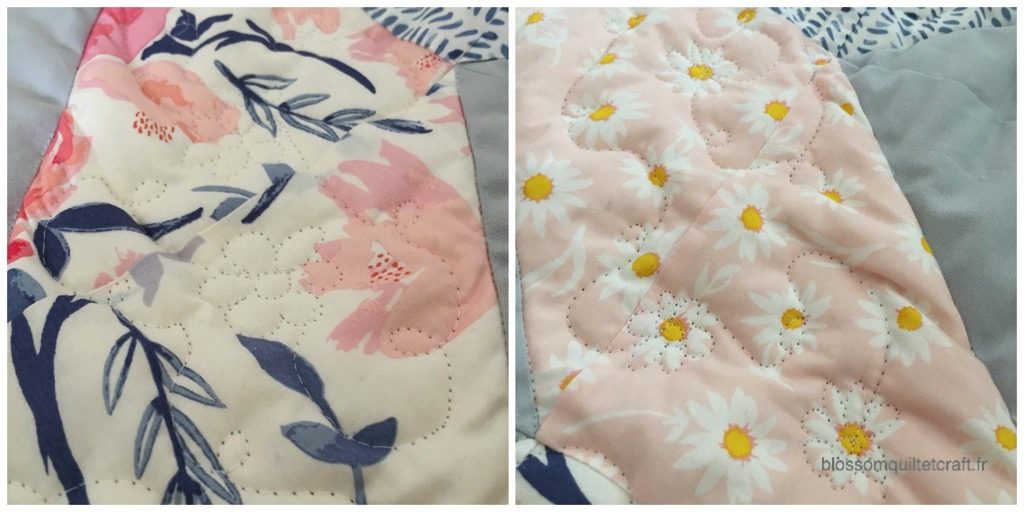 Very simple but always effective: following the fabrics designs. In that case, it works specially well. I love the 3D effects it gives to this little cute saying.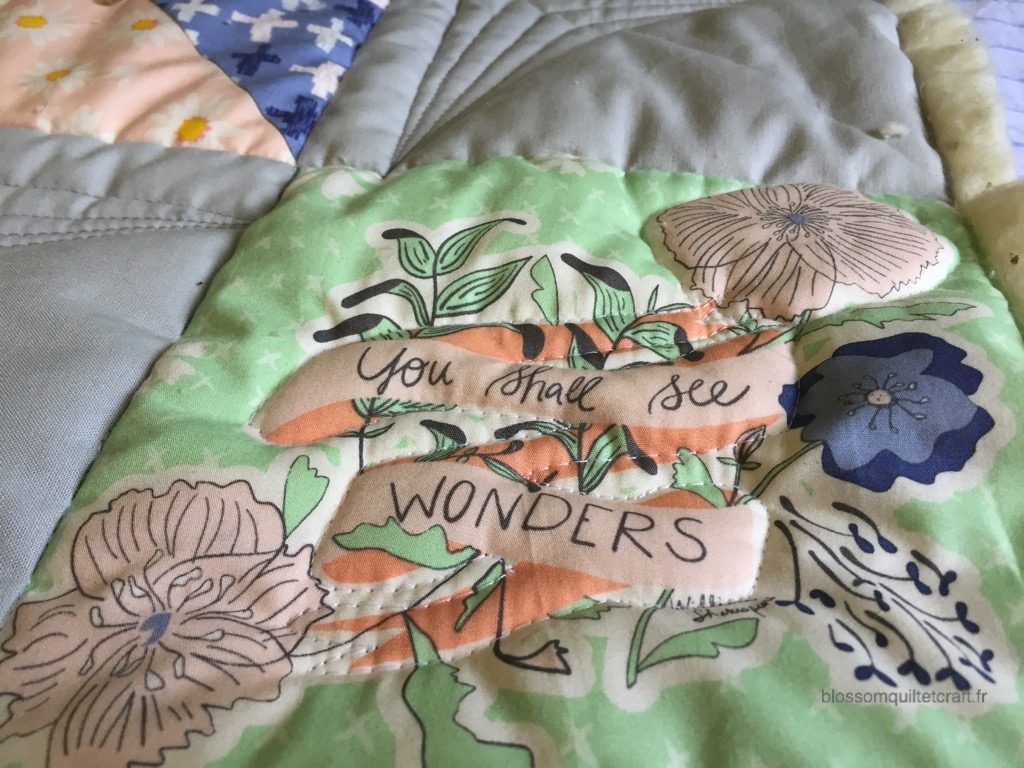 The Quilt
And here is the quilt finished. What do you think?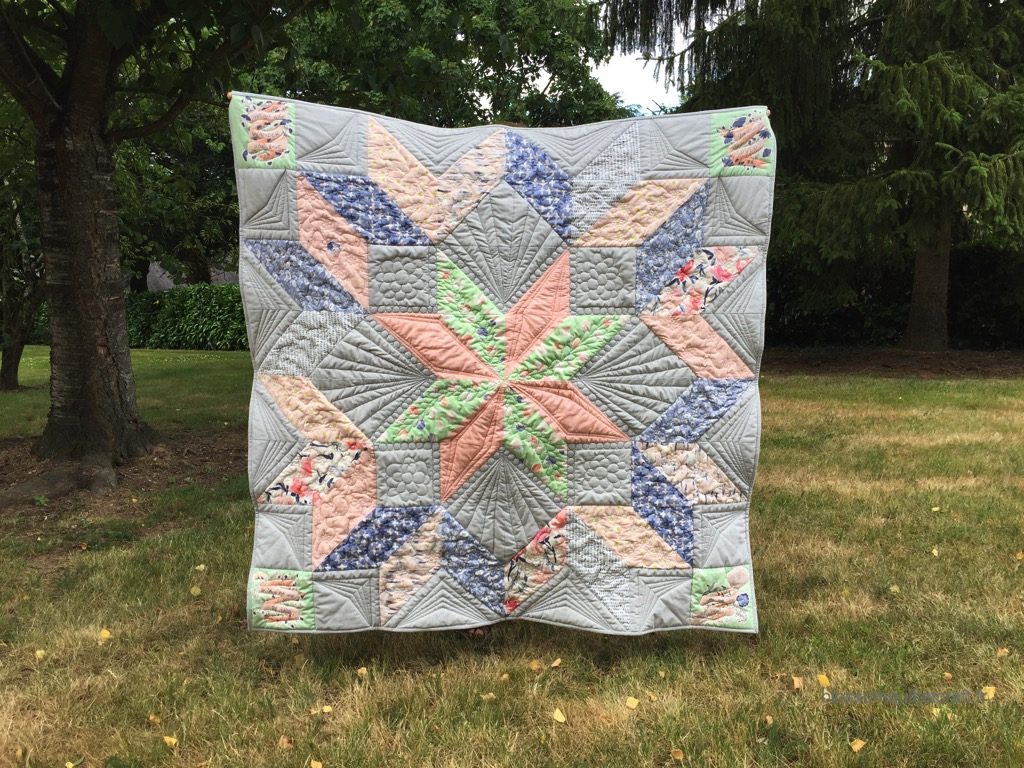 Our friends received the quilt and they are very happy with it.
Details
I actually love the collection so much that I'm selling it on my online store  (shipping to France only, for the moment).
If you want to see more projects done with this collection, make sure to visit my fellow bloggers. Last week, Sarah and Haley presented their beautiful projects and tomorrow, Katy will surprise us. You can also visit Bonnie's blog, as she will update links everyday to new bloggers and projects.
I'm normally blogging in French in this space. You are more than welcome to follow but otherwise, feel free to join me on my Instragram (@blossomquiltetcraft) where I speak both languages.
Thank you so much for joining me for this project. See you soon!